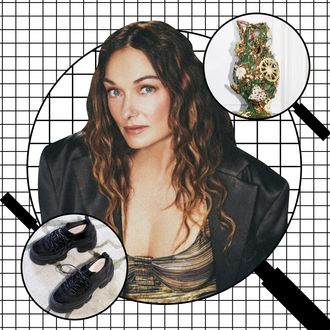 Photo-Illustration: by The Cut; Photo: Joyce Park
Kelly Wearstler's idea of souvenirs differs from postcards and fridge magnets. "Every time I'm in a city traveling, I always take the time to research what local places to shop for vintage and contemporary design and art," the designer explains over Zoom. Preferring to spend her travel time exploring the new shops with her family, each buy is sentimental in some way.
When it comes to furnishing a home or building a wardrobe, she doesn't believe in rushing. "There are pieces in my home that I had when I was in college and they're really meaningful and remind me of a great time," she explains. "You're going to learn from every purchase and you're going to see how it reacts in your space."
Along with picking up pieces in vintage shops, she loves to browse auction sites and find art and design pieces through Instagram. She takes inspiration from unexpected places, she says. "If I'm cooking and I see a color combination of seasonal vegetables or herbs, that could inspire a color for a project. It's all about keeping an open mind."
She believes that good personal style is "almost limitless," and great personal style moves her emotionally. Good style or bad style is all subjective, she explains: "It's really about knowing who you are and that you're confident relaying that through your style."
My Italian Murano glass table lamps by Angelo Mangiarotti were purchased from a super-cool vintage shop in Rome five years ago. They're on my bedside table. I was with our sons, they were playing in a hockey tournament in a city right outside of Rome. We went to Rome after one of the hockey tournaments on the weekend. The boys always come along shopping for vintage; they actually enjoy it. I got these really beautiful, rare lamps. They're super-sculptural, they're all glass, and it just gives off the sexiest, perfect lighting.
For my nighttime routine, I always take a bath. Even if it's for five minutes, 20 minutes, or whatever I have time for. I always have the ritual of bath time. Sometimes I'll play music, sometimes I'll read on my phone, or sometimes I'll just sit in silence. It's just a way to get centered and reflect on the day. It just relaxes me. There's this soap that I use called Mustela, it's actually a baby soap. It's a French brand, it reminds me of the boys when they were babies and we would take baths together. So I still use that soap; it also makes bubbles for bubble baths.
Régime des Fleurs Echoes has incredible blue notes, lavender, and herbs — and the bottle designs are fabulous. I change it up. I always love more masculine notes. Whether it is fashion or paint color, I'm always into trying new combinations. I don't really have a true signature scent, but this is the one I'm using now and it's amazing. Every season I'll change. Scent triggers a memory for me so something I might use in the fall reminds me of the holidays and family and would also be a richer scent. It's always changing.
My Percival Lafer PL Chairs are from Galeria Teo in São Paulo. I was in Brazil this summer and I did a lot of research on different galleries, vintage and contemporary. I went to this great vintage Brazilian furniture store; they had really beautiful furniture pieces and art. I found these Percival Lafer chairs that are in the original fabric and in mint condition. I was with my husband and two boys. Those will sit in our home somewhere and remind us of the beautiful memory of being there. Percival Lafer is an iconic Brazilian designer, and those are very special.
A gold signet ring from my dear friend and jewelry designer Lena Wald. The special ring is engraved with my family's initials. She gave it to me as a gift for my birthday and it was just a very sweet gift. It has a crest she created with the initials of everyone in our family. It's a pinkie ring and I wear it every day as a reminder of my friendship with Lena and my family. I have a lot of jewelry, mostly gifts from my family or friends. When I travel, I love to select a piece to remind me of a beautiful memory from my trip.
My favorite piece is a vintage Comme des Garçons coat. It has all these crazy zippers on it and I found it in a really, really great vintage store here in Los Angeles called Scout. He's been here for a long time and he has the most incredible eye. Comme des Garçons is one of my favorite brands and he always has this incredible curation of vintage Comme des Garçons.
From Italy. It's my Urus Lamborghini. During the pandemic, my car was stolen. I had to get something new which gave me the opportunity to think about what I would get. I never thought in a million years I would ever have a Lamborghini because it seems just so farfetched. It was such a dream, and just the brand Lamborghini, the craftsmanship and the quality, is unbelievable. I went to test drive one at the dealership here in Los Angeles and I just fell in love with it.
For more from the Cut Shop team, follow us on Instagram and Twitter, where we share our best new finds, favorite styling tricks, and more.

link