Thrifting can be an intimidating process. Sifting through what feels like miles of racks can not only be tiring but also disappointing most of the time. 
On the other hand, walking into vintage or curated shops for niche audiences presents its own challenges, and often you can't really afford what they are offering. 
Here's a guide to help save time and hopefully a couple of bucks the next time you go thrift shopping in Vancouver. 
The Salvation Army Thrift Store – Kitsilano
This Salvation Army on Broadway is a small, but mighty, gem located in the Kitsilano area.
Their selection of glass and kitchenware are unmatched, with beautiful salad bowls, mugs and the most adorable wine glasses. These items usually range between $1-7, depending on what you are looking for.
What many people do not know is that towards the back of the store is a collection of discounted digital appliances such as cameras, camcorders, hair straighteners and blenders. One time, there was even an old waffle maker. The great thing about this store is that there are outlets provided to make sure the appliance you are interested in is working. They also have a great selection of books and handbags. 
Address: 2714 W Broadway
The Salvation Army Thrift Store – Mount Pleasant
This Salvation Army is another tucked-away gem in Mount Pleasant which offers a range of clothing, glassware and furniture. 
Visitors can find a great deal on winter jackets, women's shirts and bags that tend to fit one's 'sporty' vibe. Another great thing about this store is their selection of shoes. Many of them fall around $10, with a variety of sizes and styles to choose from. 
This is another great location for porcelain, glassware and kitchen supplies. 
Address: 261 E 12th Ave


This Wildlife Thrift store location can easily be comparable to a Winners or Homesense. 
The store has an incredible selection of wood furniture like desks and chairs, light fixtures, and knickknacks for your home. 
It is easy to find name brands in this store for a fraction of the price (such as a Ralph Lauren raincoat for $20) as well as other more modern brands that are open in malls today.
The great thing about this location is that the racks are very organized. Sectioned by type of clothing and size, it is easy to wander your way through the racks without getting overwhelmed, which also saves you a lot of time to try things on! 
Towards the back of the store is a huge selection of shoes such as loafers, boots and sneakers. It would not be far-fetched to say that someone could find a cute pair of Mary Janes here. 
Address: 1295 Granville St


While Mintage tends to have the reputation of being pricier than most second-hand stores, their location on Main has a lot of hidden secrets that make thrifting and vintage shopping extremely affordable.
For starters, if you shop at the right time, you can find a lot of discounted prices on smaller items such as hats or scarves. This Mintage location is also known for carrying a huge range of deadstock and pre-loved t-shirts. While you can find collector's items amongst their numerous racks, many t-shirts are reduced to costing between $5-10. 
This location is called a mall for a reason–there are a variety of different vendors within the space. Therefore, some vendors will be priced differently according to others. There has been a time when similar jackets at two different vendors were priced differently (one being a fraction of the cost). While it could take some time, walking through all the vendors carefully could surprise shoppers with a unique, fairly priced item. 
Address: 245 E Broadway
BC SPCA Vancouver (West) Thrift Store
This SPCA on Broadway is a tiny store that offers a range of clothing, home decor, and books. You can find incredible deals on jackets, sweaters, and pants in the women's clothing section. Men's shirts and t-shirts can be found starting at just $5. The back room has a huge collection of glassware, household appliances, and more, with a lot of them falling in the $10 range.
Address: 3606 W Broadway
Located at the back of F as in Frank, The Rag Machine is quite the opposite of the pricey vintage store situated in the front. While they don't sell clothes by the pound anymore, you can still find brilliant skirts, sweaters, jeans, and overalls for a quite nominal rate.
Address: 2425 Main St

Value Village Boutique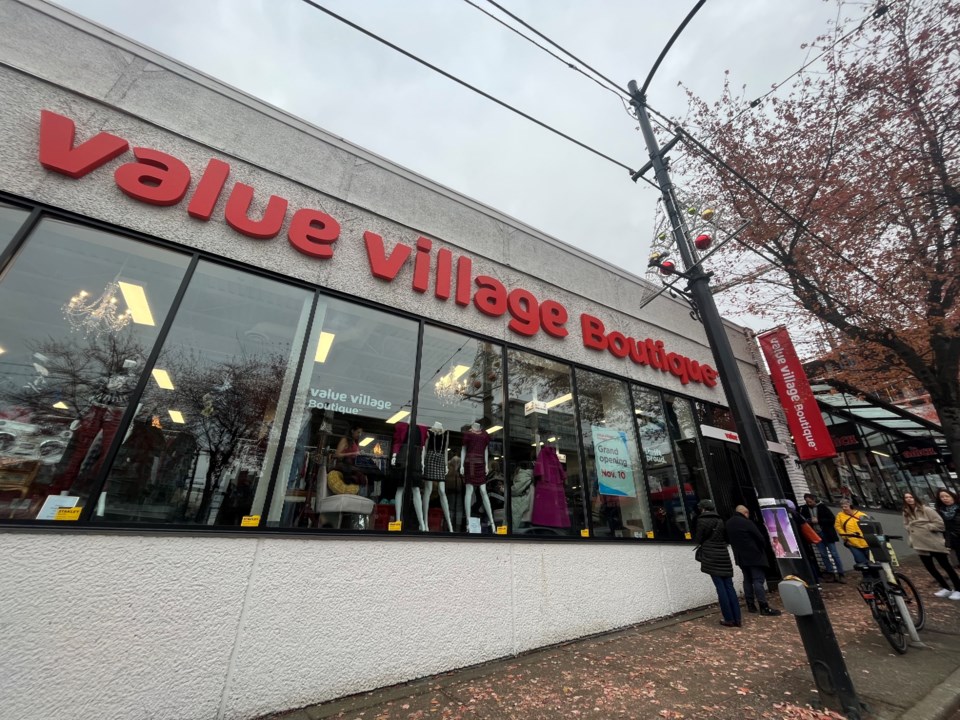 A massive store that opened at the end of 2022, Value Village Boutique carries a massive range of men's and women's clothing and accessories along with a number of books and vintage art. The store offers a mix of vintage, designer and casualwear that spreads over a wide price point.
Address: 2354 Granville St
Located in the Downtown Eastside, Community Thrift and Vintage is the store to go to switch up your wardrobe for an affordable price. With the goal of raising funds for the PHS Community Services Society, Community Thrift and Vintage offers a range of women's, men's, and unisex clothing along with vintage accessories.
Address: 311 Carrall St
A few things to consider
It should be noted that the quality of items at thrift stores will depend on the donations received. There are many factors that can influence how well a store's selection of jeans or dresses is; some people could have great luck finding pieces, while others could not.
To always ensure a great experience thrift shopping, it is best to go in with an open and curious mind, even if you do not find exactly what you are looking for. 
This article was originally published on May 31, 2022 and has since been updated.

link