Furniture World News Desk on

1/26/2023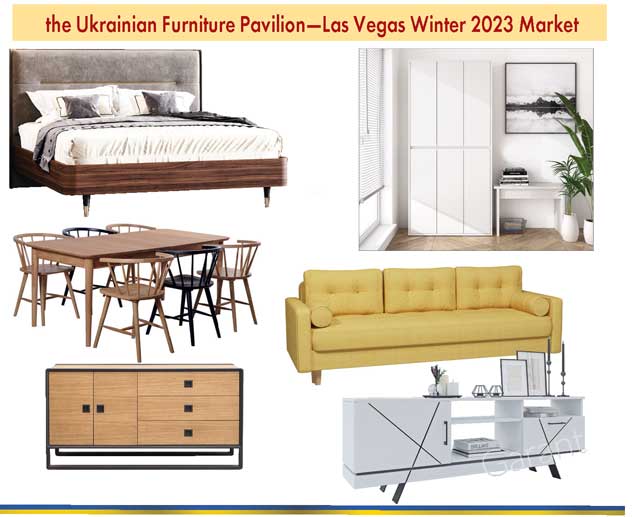 Russia's invasion of Ukraine comes straight out of the playbook from the last century. Ukraine is a rich prize indeed, with substantial resources, a strong industry sector, and of course human capital. Ukraine and its closest allies are interested in ensuring that the country has a robust, free future. That's why USAID and USAID Competitive Economy Program are assisting an elite group of small and medium sized Ukrainian furniture manufacturers to display their furniture and home décor products at the Winter Las Vegas Market, B200-10, B200-11, B200-12.
USAID CEP aims to support competitive Ukrainian industries with growth potential in its efforts and initiatives to promote export and trade development. This support includes assisting furniture manufacturing and wood processing efforts in Ukraine.
The Ukrainian furniture manufacturer Tivoli organized this mission of Ukrainian furniture manufacturers and is helping to aid these companies to ensure they can all continue their businesses even as the war rages on.
"Since its inception USAID CEP has supported Ukrainian furniture manufacturers to boost their competitiveness with innovative equipment and access to training aimed at optimizing manufacturing processes," said Olesya Zaluska, USAID CEP Chief of Party.
Challenges created by the war include a decline in the workforce, black outs and a fall in domestic demand. However, the companies showing at the Las Vegas Market continue to produce and export high quality, competitively priced designs. Ukrainian businesses have adjusted to the new reality and are contributing to the nascent economic recovery of the country.
"Currently, the furniture industry is facing war related decreases in our domestic Ukrainian market. Thus, USAID CEP has encouraged furniture manufacturers to enter international markets and scale up globally. In October 2022, 50 Ukrainian companies that manufacture furniture and home goods presented their products at the world's largest furniture show in High Point, NC. This initiative, plus our presence at the Las Vegas Market not only helps Ukrainian businesses to leverage their competitive advantages and enter new markets, but also contributes to the recovery of Ukraine and the development of export sales," Olesya Zaluska stated.
The group of Ukrainian Furniture Makers and Home Décor companies is led by Jeff Michels, an industry veteran with over 20 years of experience in hospitality. He was introduced to Ukraine while living in Kyiv from 2019 to 2022. He owns two hotels in Northern California outside of Yosemite National Park in Sonora, Tuolumne County. Michaels decided prior to the war to utilize the talent in Ukraine to remodel his motel with all Ukrainian partners from Balbek Architecture Studio, including everything from furniture to landscaping. The renovation was a huge success, and he has doubled his average daily rate utilizing Ukrainian partners.
"I took a chance as I saw the opportunity to work with this extremely talented industry in Ukraine," noted  Michels who is the CEO and Owner of Hotel Lumberjack.  "The furniture was shipped on time and the team of Cassone came to Sonora, California from Ukraine to ensure a smooth assembly. It was a seamless process and their hands on approach made my hotel stand out from others throughout the California coastline." 
Michels recently traveled to Ukraine to visit the manufacturing industry during the war. "I felt I needed to see what these businesses were up against and if they were still able to produce product with the electricity constraints. I was impressed to see all them keeping up with production and employing so many talented individuals," Jeff Michels recalled. "It was incredible to see this level of professionalism and the drive to continue moving forward. There is a strong energy among Ukrainians and in their production facilities. You would never know that a war is happening when visiting their businesses," He concluded.
Furnishings Companies exhibiting at the Ukrainian Pavilion at Las Vegas Market, B200-10, B200-11, B200-12
About Tivoli: The organizer of the Ukraine Pavilion at the Las Vegas winter show, Tivoli has been a brand leader since 1912. It is one of the most prominent Ukrainian chair producers based, in Stryi town (Western part of Ukraine in in the foothills of the Carpathian Mountains). The Ukrainian-made furniture company is sure that they can fulfill all the needs (quality, quantity, price, delivery terms) of international partners with a high-level service.
About Garant Furniture: Furniture company Garant is a powerful mass producer of high-quality cabinet furniture. Their experienced staff of professionals manufactures products as quickly as possible, using high-quality materials and modern technology. The wide range of model lines  pleasantly impresses even the pickiest buyers. Garant's assortment includes sliding wardrobes, modular kitchens, TV walls, furniture for hallways, living rooms, bedrooms, office furniture and more. 
About Mebus: Mebus is a progressive hi-tech production manufacturer equipped with machines from leading Italian companies. They provide high quality goods, short lead times and acceptable prices. For furniture production they use natural raw materials: solid wood, as well as advanced environment friendly finishing and decoration materials. The company gives priority to the manufacture of elegant upholstered furniture, bedrooms, living rooms, office furniture, hallways and dining rooms. 
About U-MA Furniture: "UMA ursa major" is a Ukrainian manufacturer of upholstered furniture known for its original design,  proven quality, comfort, warmth and durability.
About Sofro: Extremely high-quality and stylish furniture. Major products include cabinet furniture suitable for a small comfy apartment or a large country house. The company also produces  is "Arkadia" modular kitchens. Their "CAMRON" system supplies casegoods for hallways, living rooms, bedrooms, dining rooms, youth and children's rooms.
About Shtayer: Has had a twenty-year love affair with textiles. Today, the best hotels of Ukraine use the company's Shtayer brand bed linens, pillows, blankets, bathrobes and towels.
Wood Mood: With its own patented design and natural ingredients, this family owned company came up with an idea to combine a candle and a fireplace. Their WOOD MOOD candles are ecological and natural, safe for use at home without any chemicals. The company uses only the best natural beeswax with phytoncide properties from local beekeepers and proven natural essential oil from the USA to create a magical atmosphere.
Lumimo.Art: Lumimo.art paintings are proudly displayed in homes, offices and public spaces. They perform two functions at once—art object and lighting. Light paintings from LUMIMO.ART are made using a unique technology that combine bright images and an individually developed lighting system. Illumination is produced via a control panel or phone app.
Enjoy The Wood: This family brand founded in 2014 strives to give JOY and INSPIRATION to each and everyone who owns their products. 3D wooden world maps provide a focal point for home design are excellent gift items.
About Co Honey:  Products crafted by creative people united by the common goal of popularizing beekeeping products, namely beeswax, to make the most fragrant organic natural handmade candles. They started small candle making business in 2014 in western Ukraine. 
About Nakol Art: Celebrating fine craftsmanship all Nakol Art's products are printed and handmade in Ukraine. Each item is made to the highest standard ensuring exclusivity and uniqueness. Made from pure silk, their scarves can be worn all year-round fitting perfectly into any modern wardrobe.
About Cassone: Founded in 2013, Cassone focuses on the production of contract furniture for hotels, common areas, student accommodations, retail spaces, restaurants, bars, cafes and office plus public spaces. The company has an experienced team of installers and produces furniture of the highest quality for commercial spaces.
About InStyle: This Ukrainian furniture company is dedicated to improving the quality of life by creating stylish furniture, constantly improving in the systematization of production processes and technology. Their products are designed and manufactured in Ukraine are sold all over the world.
About Woodsoft: Since 2017, a Ukrainian team of like-minded people have implemented their expertise, ideas and resources to create a new page in the furniture industry. Inspired by the creation of perfect products that embody modern style, unique design, impeccable quality and above all, comfort.
About Favoris: Furniture products that are not just beautiful interior furniture, they create a recreational corner offering beauty and convenience. Their furniture is original and  handmade using unique technology and high-quality materials.
link