Article content
Never underestimate the power of connection.
Article content
For nearly a year, the Ukrainians in Sherwood Park Facebook page has been a lifeline for many Ukrainian newcomers, as well as everyday residents who want to help.
Days after the Russian invasion on Feb. 24, 2022, the social media page was set up by former Elk Island Catholic Ukrainian bilingual language teacher and administrator Laurie Kardynal, as she knows the strength of the local Ukrainian community.
"Everyone wanted to help. They were asking how do we help and what do we do. So, the Facebook page became a central place where you can connect with one another," she explained. "It quickly became a place to share supports for Ukrainian newcomers, such as the Free Furniture store in Edmonton, or how do you get a social insurance number, or what people's experiences have been. It's also been a support for one another, especially for people who are hosting."
Article content
The page has become a source for quick problem solving, information sharing, job postings, free furniture posts, local events, hosting opportunities, and informally connecting Ukrainian newcomers.
Kardynal has also become a host for 17-year-old Maria from Kyiv, who currently attends Archbishop Jordan Catholic High School. Close friends of Kardynal's, Maria's parents asked her to take care of their daughter when the war broke out.
"There were a couple of incidents where there were bombings that were not very far from her apartment building, so those were very scary moments. You just see those photos online and it's very devastating."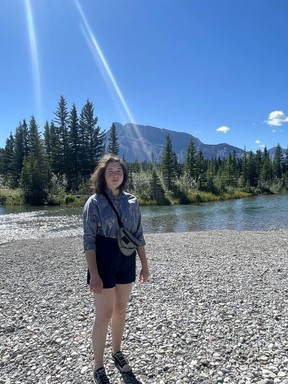 Maria's father was first digging trenches and fighting with the Ukrainian army, but has since transitioned into the army's band as he is an accomplished musician and was a member of the national orchestra. Her mother, a highly regarded film director, is currently in Ukraine with Maria's little brother, but they're hoping to come to Sherwood Park soon.
Article content
"Because we have the Ukrainian bilingual program in Sherwood Park, that has been really helpful in terms of meeting other kids from Ukrainian who have that shared experienced, and to have that connection and background. The teachers are able to support those students and speak the language as they integrate into our community and society. It is very different because I've lived in Ukraine and the lifestyle is very, very different.
It's been more than a culture shock for Maria, who, after Grade 9 in Ukraine, was streamed for her career and was placed into a technical design college. Now, in Sherwood Park, she's taking Grade 12 curriculum, of which many courses she predicts she will have to repeat due to the language barrier, and she continues to complete her Ukrainian college studies in the evenings.
Article content
"She was already streamed for her career and now she comes here and she's in high school in a language that she doesn't know, so it has presented some challenges," Kardynal explained.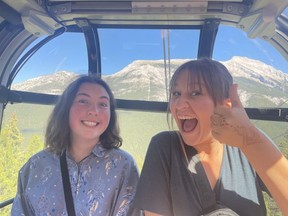 The smallest gesture can make the biggest difference if everyday residents are looking to help Ukrainian newcomers, the Facebook organizer said. Posting job opportunities, even cleaning jobs, so that families can make some extra money helps. Posting furniture to donate helps. Lifting certain documentation restrictions for housing rentals helps.
"There have been a lot of Strathcona County families that have helped and stepped up, and it has been absolutely wonderful," Kardynal said. "At St. Sophia's Ukrainian Catholic Church, we had a barbecue to welcome newcomers, the amount of people who came out that were not Ukrainian but had Ukrainians living with them shocked me. They said 'No, I'm not Ukrainian, but I can help, so I'm helping.' It just speaks to the people of Strathcona County, it really does."
Article content
Continuing to keep up to date on what's happening in Ukraine is also important.
"Not forgetting is important. Sometimes we can get a little numb because these things are not in our faces," Kardynal noted. "But there is a family in our community, where the mom came with her two daughters, one in Grade 10 and the other in Grade 2, and their dad died in the war — he died fighting. These are real people with real connections. This isn't just happening in the news, this is impacting people in our own community who have been graving affected."
This Friday, Feb. 24 will mark one year since the Russian Invasion.
"I will continue to pray and hope for an end to this war," Kardynal said. "Hopefully, this war will end. I'll be thinking about how we, as a Ukrainian community, can help Ukraine rebuild because it's going to be a very long, arduous process."
twitter.com/LindsayDMorey

link