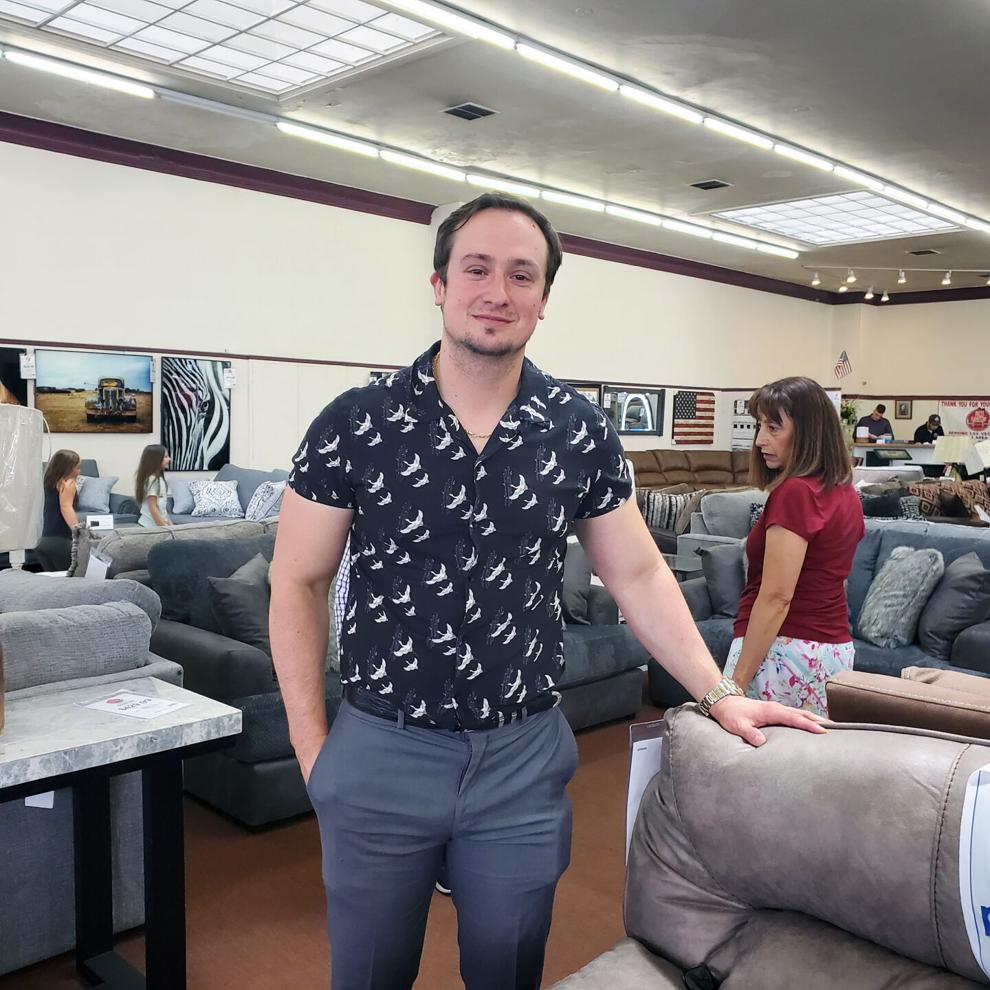 The 37-year-old owner of Price's Home Furnishings has received national recognition for his business leadership.
It could be said without a doubt that Jess Price has spent decades – in fact, most of his life – in the furniture business. For his years of dedication and knowledge, Price has been nominated for Home Furnishings Business magazine's list of Forty Under 40.
"It felt good," Price said of being nominated, "it felt great. It felt like my hard work and perseverance have been recognized. … It's an honor to be recognized by my peers."
Price expressed gratitude to those in his life who have supported him.
"I'm thankful to my family for the support that they give me at home to push through," he said. "I'm really thankful for our employees, our sales people and our delivery people, because, honestly, without them, I wouldn't be where I am."
"They don't know it, but they're the backbone of the store," Price continued. "They help us get through. We're a team."
As part of the nomination, Price will be attending a reception to be held during Home Furnishings Business magazine's High Point Fall Market in High Point, North Carolina, in October.
Born and raised in Las Vegas, Price is a 2004 graduate of Robertson High School. He went on to study history at New Mexico Highlands University. He was a few credits shy of completing his degree when he decided to dedicate himself to the furniture business.
Price took ownership of Price's Home Furnishings in November 2021. That's when his grandfather, also named Jess Price, and grandmother, Gloria, sold the store.
"I'm third generation in the business," Price noted, adding that his grandparents opened Price's Home Furnishings after purchasing the business from Carl Ilfeld sometime around 1970.
Price mentioned a plaque on the side of the business dedicated to his grandfather. 
"He means a lot to the community," Price said of his grandfather. He said Las Vegans often ask him about his grandfather, who also had a great influence on the younger Price. 
"He was a big influence on me for sure," Price said. "He taught me …  how to take care of things that come up in business and just how people should be treated: With respect and dignity."
"'Always try to help people if you can' is pretty much what he always preached to me," Price said of his grandfather. "I'm a big believer in it. … There's not a day that goes by that I don't lean on what he taught me."
Price said he's been helping at the furniture store since the age of 14, when he would cut boxes, sweep, arrange carpet samples and keep the place tidy. At the age of 17 or 18, he said, he started delivering. He did that for a couple of years until the opportunity to branch out presented itself.
"I remember, they were kind of shorthanded in selling one day, so I decided I'd try to sell," Price recalled. He said the product knowledge he gained from delivering furniture taught him a lot about quality, which, in turn, helped him on the sales floor. 
"I started selling pretty well," Price said. He dedicated himself to selling furniture for the next three or four years before he moved on to managing, ordering and buying. 
"It turned into my passion," Price said. "It turned into what I decided I wanted to do for my life's work"
When the opportunity came to buy the business from his grandparents and remain in his hometown, Price took it.
"I feel it's good for the town to have a store like ours here, to access products that people need immediately," Price said. He has since diversified the business, choosing to also sell protein powders at the store.
"This is a new little shop in a shop," Price called his supplement offerings. "We've been carrying furniture and appliances for … 50 years, so this is kind of a new little wrinkle. … Nowhere in town really did it, so I decided that we could do it here, right across the street from the gym."
Price and his wife, RaeDawn, have four children: Chase, 10; Morgan, 8; Cade, 6 and Sloane, who is five months old.
Aside from his family and fellow employees, Price expressed gratitude to the community for its support of Price's Home Furnishings.
"I'm really thankful for the support that Las Vegas and the surrounding areas have given me all these years," Price said. "We wouldn't be anywhere without them."
link