Furniture World News Desk on

1/27/2023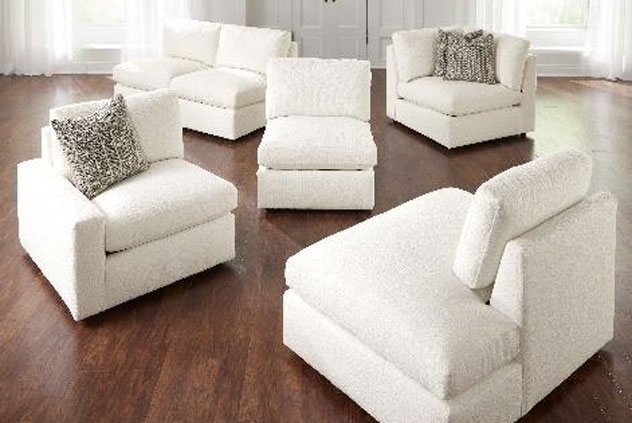 Flexsteel Industries announced that it will return to Las Vegas this Winter Market. The company has signed a four-year lease, showing a committed return to exhibiting at the World Market Center Las Vegas.
"We continue to focus on growth and exceptional customer experience for our retailers," said David Crimmins, Vice President of Sales and Product Management. "The best place to engage our retail partners is at Market and many of our West Coast retailers rely on Las Vegas Market. We are bullish with new products and offerings we are bringing to Las Vegas next week."
In their new Las Vegas showroom, the company will highlight their new brand, Charisma, and Flexsteel collection introductions for the upcoming show, Jan. 29-31st.
Charisma: The showroom space will feature the new Charisma brand, which Flexsteel launched at October Market in 2022. With Charisma, customers can get high-quality, large-scale, stylish furniture at an affordable price. Additionally, they strive to meet the needs of their channel partners and provide them with a breadth of offerings and fulfillment that makes selling easy and profitable.
flex & zecliner: Two of Flexsteel's most exciting recent introductions, flex and zecliner, will also be on display in the Las Vegas showroom space.
The flex modular seating system was designed with evolving life in mind. It offers a flexible modular footprint in the upholstery category with the same type of quality construction as Flexsteel. Pieces are constructed by combining a single seat with a few different arm styles to form a chair, sofa, loveseat, or sectional. Storage and non-storage ottomans are also available. The same modular footprint can also be used to build a sectional that includes a regular ottoman or storage ottoman at the end to serve as a chaise.
As part of flex's strategy, it seeks to engage consumers – including younger consumers – wherever they are shopping today. Whether online or in-store, flex is small parcel friendly for fast and easy fulfillment.
Additionally, the company will exhibit its new sleep solution, zecliner, which was introduced at High Point Market in October. It features Zero Gravity reclining capabilities and luxuriously soft performance fabric to provide a sleeping experience beyond traditional beds while incorporating a health and wellness story to improve consumers' overall well-being.
South Haven Additions: Flexsteel will also display additions to its South Haven Program. A new collection of stationary pieces includes the Finley sectional, Moxy sectional, Stella sofa group, and Sky Modular. As well, Score, Strait, and Penn have been added to the motion collection in South Haven. The program offers curated styles, finishes, and fabrics that our retailers can price easily. Consumers can buy without being overwhelmed with choices and provide great comfort and quality while meeting a 4-week manufacturing lead time.
Latitudes: Several new additions to the Latitudes collection will be featured: Jackson, Crew, Odell, Iris recliners as well as Aurora, a leather motion sectional and recliner. The Latitudes Collection by Flexsteel combines style, beauty, and comfort. These products are domestically stocked and ready to ship upon order. The Latitude products come with strong design lines, exquisite tailoring, upscale leathers, and our innovative spring system to support it all.
Flexsteel's will show at Las Vegas Winter Market, space A-529, World Market Center January 29th-31st. For more information contact [email protected].
link